Dance/USA is the national service organization for professional dance, serving a broad cross-section of the dance field. Established in 1982, Dance/USA champions an inclusive and equitable dance field by leading, convening, advocating, and supporting individuals and organizations.
Dance/USA was looking to revamp their website. The original site was very outdated and was no longer conducive to their overall company goals. In addition to a new website design, Dance/USA was looking for a more friendly back-end experience, ADA accessibility compliance, and establishing a more robust way for staff to manage the website on a day-to-day basis.
Client Challenge
Dance/USA's previous website design was outdated.
Need to migrate the website from a custom CMS to WordPress and train staff on how to operate the website.
The old site was clunky and the back end was a mess to manage pages and posts.
Dance/USA wanted more graphical and visual representation of who they are and what they offer in an effort to attract more membership.
Company was ready for a complete branding overall, new logo, colors, and image.
The Solution
Developed new branding for Dance/USA: logo, fonts, and color scheme.
Engineered the most efficient content workflows possible, allowing their staff to easily update their website.
Reimagined the site structure.
Redeveloped membership and donation path.
Impact
Dance/USA has a fresh branding identity that better reflects their organization.
Members now have easier funnels to find information that reflects their individual membership.
Navigation is simpler and more conducive to the overall mission.
Site is more stunningly visual and eye-appealing.
Site also loads faster.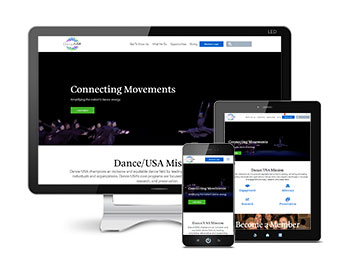 Key Features
ADA Level AA Compliance
Blog
Custom Landing Pages
GDPR Compliance
Integration with Vimeo
User Administration
Services Provided
SEO
Web Design & Development
Technology Stack
Bootstrap
Elementor
WordPress