The Gotham Market At The Ashland is a curated culinary market in Fort Greene, Brooklyn with multiple dining + drinking venues. GMTA needed a brand new website.
Gotham needed a new website for the opening of a new market in Brooklyn.
The site needed to be vibrant and speak to the social aspect of the neighborhood
The Solution
Created a new website that fit with the templates of a number of other market sites owned by Gotham
Ease of use for users and staff members
Added neighborhood activities widgets to keep the public informed
Created section for temporary vendor, which client can highlight at will
 Impact
The new Gotham Market at the Ashland site happily blends with the designs of the Gotham West Market site and the Gotham Hospitality portal.
Client can now easily create vendors or manage new vendors
Users can find out what is happening around the market in the Brooklyn neighborhood and plan outings accordingly.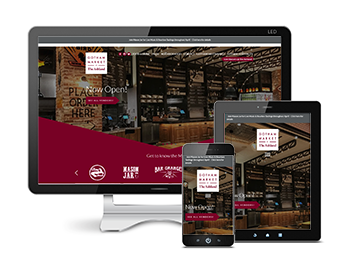 Key Features
Services Provided
SEO
Web Design & Development
Technology Stack