One Dalton is a high-rise in Boston, Massachusetts with some floors dedicated to condominiums and the lower half dedicated to the Four Seasons hotel. In 2017 Red Sequoia took over management, hosting, all day-to-day updates, and new feature requests of the One Dalton website. Initially One Dalton requested that we make a number of improvements and other changes to their existing website.
One Dalton needed a new, reliable, and highly responsive agency to manage the daily operations and hosting of their website
We were presented with a large list of immediate changes, with the understanding that many more would be coming in the future
We needed to help One Dalton create a monthly newsletter template and send out this newsletter to announce the progress of the building
The Solution
Developed working relationship with One Dalton built on trust, and a highly successful delivery rate
Actively maintaining a beautiful, mobile-friendly website
Delivered a recurring newsletter template to announce the various stages of building
Translated the entire site to Chinese and Arabic
Added major improvements to the site's user experience
 Impact
One Dalton is perfectly happy with their relationship with Red Sequoia
The current website has been improved and expanded
Native Chinese and Arabic speakers are able to now browse the site and stay abreast of the building progress, with more language support forthcoming.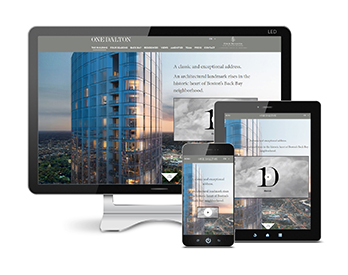 Key Features
Integration with Call Tracking Software
Integration with Vimeo
Language Translation
Services Provided
Custom Newsletter Template Creation Using Mailchimp
Web Design & Development
Technology Stack